What is a One Decade Rosary? 5 Great One Decade Rosary Ideas
What is a one decade Rosary?
A one-decade rosary is a short version of the Rosary that consists of a set of ten beads, which are used to count off a series of prayers. In short, it's 1/5 of a full Rosary, which is made up of five full decades.
You can use this shortened Rosary to simply pray one decade, or pray a full Rosary by repeating the prayers around the one decade Rosary five times. It's also known as a "finger rosary" because it is small enough to be held in the hand and used to count off the prayers on the fingers.
How to pray a one decade Rosary?
If you simply want to pray a one decade Rosary, its simply one of the five decades of the Rosary. We don't pray the introduction or conclusion prayers when reciting this shortened version.
Start with one Our Father.
Follow with ten Hail Mary's.
Conclude with one Glory Be and one Fatima prayer.
Why would we pray only one decade of the Rosary?
Most of the time we would resort to praying one decade of the Rosary when time doesn't allow for a full Rosary. In a general sense, it would be more beneficial to pray a full Rosary but if time is short reciting one decade is a great way to pray, and call on all the good graces promised in the Rosary.
What are some tips to praying a one decade Rosary?
Think about how you can sanctify the little parts of your day by reciting only one decade when you have 2-3 minutes to pray. Below are some ideas to pray the one decade Rosary throughout your day.
First thing in the morning: You could start your day off by praying a quick Rosary as a way to focus your thoughts and set the tone for the day ahead.
During your commute: If you have a long commute, you could use this time to pray the Rosary. Many people find it helpful to pray while driving or riding the bus or train, as it helps pass the time and keeps them focused.
In the car on your way to an appointment. If we have an important appointment, for health, financial or other reasons, a one-decade Rosary is a great way to prepare your thoughts and heart for the meeting.
Before meals: Praying a quick one decade Rosary before meals is a great way to give thanks for the food you are about to eat and to ask for God's blessings on your meal.
Before bed: Praying a decade of the Rosary before bed can be a calming and centering activity that helps you wind down for the night and prepare for sleep.
At any other time: The Rosary can be prayed at any time of the day that works for you. Some people find it helpful to set aside a specific time each day to pray the Rosary, while others prefer to pray it spontaneously whenever they have a few minutes of free time.
Five great one decade rosaries:
Need a one decade version of the Rosary to take with you? Below are some of our favorite "Finger Rosaries" that you can carry with you each day.
1. The Rosary Card
Our favorite option is the Rosary Card. These simple durable metal cards are smooth to the touch and fit nicely in your hand. They are the easiest to carry as they fit conveniently in your wallet, and you'll always have the Rosary with you.
2. Olive Paracord Rosary
If you are looking for something rugged, maybe as a gift for a male, these paracord one decade Rosaries from the Nazareth Store are a great option. They make a great everyday carry option.
3. The One Decade Rosary Key Chain
This is a great option to carry on your keys - everywhere you go you'll have the Rosary with you.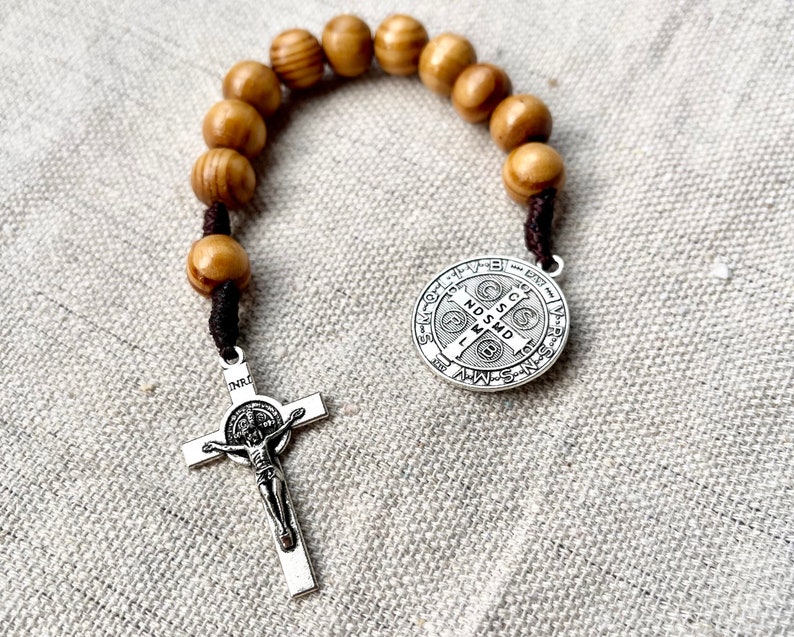 4.  Catholic Traveler Rosary
From the Good Thief Co, these St. Benedict Medal and Olive Wood beads are beautiful pocket Rosary. They come in packs of five and would make great gifts. The craftsmanship is impressive.
5. Gold Black Obsidian Pocket Rosary
If you are looking for something more elegant, the Black Obsidian Rosary from Elegante Medical is a very impressive Rosary. This Rosary reminds you of the beauty of the faith and helps put you into a higher mindset.
The Rosary is a powerful and important prayer. When you don't have time for a full Rosary, reciting a one-decade Rosary is a beautiful practice. These smaller Rosaries are great to carry with you and to use daily! Pray the Rosary!


Want to learn more? Click on our guides below!
How to Pray the Catholic Rosary
How to Pray the Devotion to the Immaculate Heart of Mary
Prayers after Communion - What to Pray After Communion.
---
The Rosary Card - Built For Convenience
As you learn to pray the Rosary, check out our Rosary Cards. They are designed for convenience (same size as a Credit Card) and make it much easier to pray the Rosary or Divine Mercy Chaplet often. 
---
Connect
Please let me know how your journey with the Rosary is going, I'd love to hear from you. Send me a message an email at: brennan@everydayprayerco.com
Need a Rosary to get started? Check out our Wallet Rosary Cards. It'll make sure you are never without the Rosary.

Get inspired by our daily Rosary quotes: Instagram
And don't forget about our free Rosary Guide Download. Keep Praying! 
Comments
0